Elsa air pressure stimulator
Belladot Elsa is a double-functioned clitoris stimulator, using both vibration and pulsating air pressure to create a new dimension of pleasure. The innovative technique provides countless choices and truly intense stimulation. Experiment together with Elsa and get fascinated by how easily she'll become your new best friend.
Elsa is made from super smooth and body safe silicone. And she's waterproof, so she'll happily join you in the shower.
Ergonomic design
Ten different vibration patterns and ten different air pressure modes.
Two intuitive buttons.
Rechargeable battery with 60–80 minutes battery time.
Travel bag included. One-year guarantee.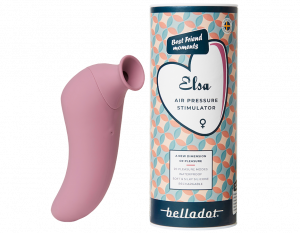 Comment
We welcome your opinions. You can also ask a question. Nothing is published, you are completely anonymous.